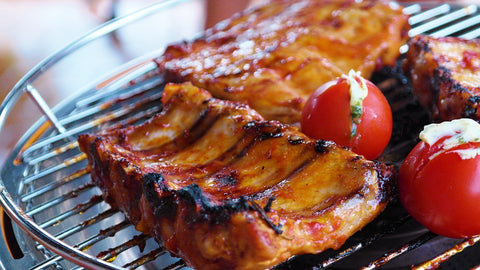 Grilled Baby Back Ribs
Ingredients:
2 racks

of baby back ribs (cut in half)

4 tbsp.

McHardy's Original Seasoning

12 oz.

McHardy's Original BBQ Sauce
Place the 4 half racks of ribs onto a platter and coat them evenly with the  McHardy's Original Seasoning.
Wrap each half rack in parchment paper and then tightly in aluminum foil. Place them in the refrigerator overnight for best results.
Place the ribs onto your grill on medium high heat for gas grill or indirect heat with charcoal grill by spreading the coals to the outside of the grill and placing the ribs in the center.
Cover the grill and cook for one and a half to two and a half hours depending on your desired tenderness.
When your desired tenderness is achieved, remove the ribs from the paper and foil, glaze them with the McHardy's Original BBQ Sauce and place them back on the grill. At this time you can add wood chips to achieve a smoked flavor.
Let the ribs continue to cook until the sauce is tacky and reapply more and repeat.
Remove from the grill and serve with more McHardy's Original BBQ Sauce on the side for dipping and your favorite side dishes made with McHardy's seasonings and sauces.